July 24, 2018 - FUNdraising Event at California Pizza Kitchen
---
---
March 23-24, 2019 - A Tropical Plant Fair
---
---
March 24-25, 2018 - A Tropical Plant Fair
---
---
May 23, 2017 - FUNdraising Event at California Pizza Kitchen
---
Visit the California Pizza Kitchen located at 2301 North Federal Highway, Fort Lauderdale, FL, 33305 (phone number 954-565-1196) for lunch or dinner on Tuesday, May 23, 2017 and 20% of your check is donated to the Equality Park Garden Club.

This includes dine-in, takeout, and all beverages. You must click on the California Pizza Kitchen picture below to print out the certificate. Then, give the certificate to your server for the Equality Park Garden Club to receive the 20% donation.

---
May 6, 2017 - Potluck
---
At Chip's Home
---
April 22, 2017 - Ramble to Redland, Florida
---
Join us on Saturday, 4/22/17 for our bus ramble to Homestead area nurseries.

We'll be stopping at Redland Nursery, Stelmar Gardens, Banjong, and Sunshine Bromeliad.

For more information please contact Dot at the next meeting.

The cost is $30 per person.
---
March 25-26, 2017 - A Tropical Plant Fair
---
---
December 7, 2016 - Holiday Party
---
You're invited to our potluck holiday party on December 7th. See Dot Henley at Wednesday's meeting to sign-up for what you're bringing. If you're not able to come to our meeting please call Dot. It'll be a lot of fa-la-la-la-la lot of fun!
---
October 22, 2016 - Southern Florida Ramble
---
Our ramble is next Saturday, October 22 with seats still available at a cost of $30 per person. Talk to Dot at the welcome table at Wednesday's meeting if you're interested in going.
The bus leaves at 8:30 AM SHARP from the Cardinal Gibbons High School student parking lot in Fort Lauderdale. Bring a bagged lunch to eat on the bus between stops. We like to keep moving and see as much as possible. Our itinerary is as follows:
Marie Nock's Nursery
7860 SW 124 St., Pinecrest, FL, 33156
A fantastic variety of shade loving plants.

OFE International
12337 SW 130 St., Miami, FL, 33186
A great selection of plant supplies. They are also having a sale on supplies and live orchids.

Albert Livingston Nursery
31501 SW 197 Ave., Homestead, FL
Lots of trees and landscaping items. This is a working farm so please bring walking shoes and prepared to get them a little wet.

Bullis Bromeliads
24350 SW 147 Ave., Princeton, FL, 33032
Amazing gardens with the world's best bromeliads.
---
May 24, 2016 - FUNdraising Event at California Pizza Kitchen
---
---
April 30, 2016 - Redland Ramble
---
We leave the Pride Center back parking lot at 8:30 not 8:00, and we will get back to our cars about 5:30. Plan B. is we leave the Cardinal Gibbons student parking lot which is a block off Bayview on 47 th Street.
You need to bring a bagged lunch, beverages, and a way to quickly identify your plants when we unload them from the bus. You need to also bring a towel and a dollar store poncho are good insurance against rain, and, if it does rain you will be prepared to keep on finding the plants you didn't know you needed.

Our first stop will be Quest Orchids in Miami. They are famous for red blooming catts that do bloom here. Segundo has kept the cold growing red parents 5-7 generations back and got later generations to be warm tolerant. We can now bloom red. You will like this stop.

The second stop will be Redland's Nursery which will have things for you no matter what you want in their seven plus acres. You will find things for your window or balcony, or trees and updated outdoor growers for your yard.

Stelmar Gardens will be next. We missed Stelmar on the last two rambles, but it is one of our very favorite stops. If it thrives in the shade, you will find it here. The varieties are almost endless. OFE International will be the last official stop. This is the place for plant chemicals, pots or baskets, growing media, and the list goes on. I'm going to their website and pre-order what I know we need, so it will save time since examples are in the office, but what we buy has to be brought from the warehouse in back.

IF there is time we will make one last stop on the way home. The four great stops may take so long that a 5th has not been written in stone.
---
November 7, 2015 - Redland Ramble
---
You might think this plan is early but it is not. We have to pay for the bus weeks ahead of the trip. We will leave at 8 am from the Cardinal Gibbons student parking lot off Bayview Drive. The Pride Center doesn't have room for our cars that day due to the monthly flea market. We will return by 5 pm. As usual you need to bring a brown bagged lunch. The cost will be $30 per seat. Please pay early, and you can suggest places to shop. My tentative plan for stops is: Carib plants for great orchids, Stelmar Gardens and Palm Hammock for great varieties of smaller shade loving plants. Chip has a new bromeliad place in mind as well as a stop for yard landscaping plants. Please pay early to reserve your seat and register your preference for stops.
---
November 1, 2015 - Garden Tour
---
Tour of Paul Durbin's Garden
---
August 23, 2015 - Butterfly World
---
Butterfly World Private Tour
---
June 2, 2018 - Homestead Area Ramble
---
Join us for our next garden ramble exclusively for Equality Park Garden Club members and guests. Tickets are only $30 per person! We'll meet around 8:30 AM in Fort Lauderdale then travel aboard chartered motor coach to Homestead area nurseries. Our first stop will be none other than Bullis Bromeliads.

The day is jammed packed with shopping at exclusive nurseries and growers. So, bring a bagged lunch. For more details talk to Dot at our next meeting and reserve your spot right away!
---
April 16, 2019 - Rare & Unusual Plant Auction
---
---
March 28-29, 2020 - A Tropical Plant Fair
---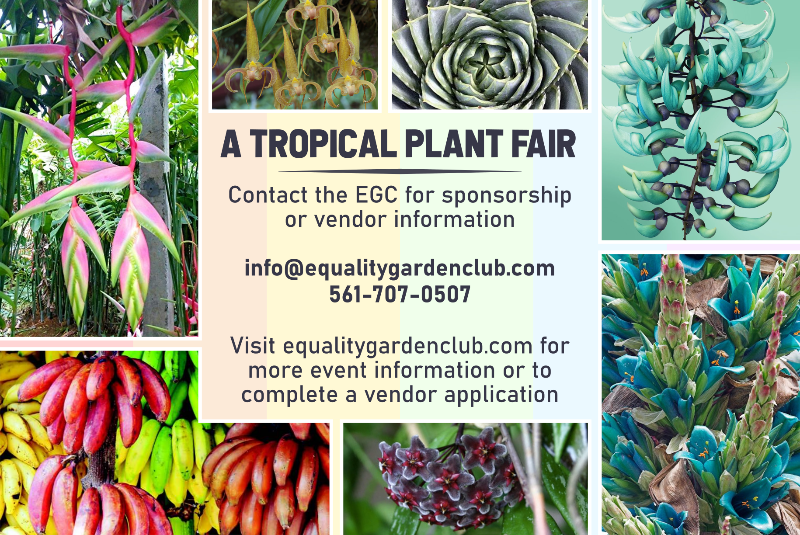 ---
February 23, 2019 - Dade County Ramble
---
The February bus ramble to Dade County will be on February 23. Pick-up will be as usual at the Cardinal Gibbons High School student parking lot off Bayview Drive. You can sleep half an hour later, the bus will not leave the lot until 8:30. The cost of each seat will be $30 and you will need a bagged lunch. The driver's tip is included in the fee we pay for the bus, so you can spend a little more.

We don't have all the stops confirmed but one will be Redlands Nursery. John DeMott passed in November, but his son is running the nursery. As you remember this is a huge nursery that will have almost anything on your list. For people wanting palm trees that will fit on the bus this is your stop. Redlands was a BIG spending stop two years ago, not because the plants were expensive, we bought many plants. The reason there is a clipboard on the front bus seat is for us to write down what we spent at each stop. The totals are used for planning future stops. The lowest total- spent- stop is dropped for future rambles in case you want to know why we haven't returned to a place you liked.
---
June 8, 2019 - Volunteer Appreciation Reception
---
In past years we have had a Volunteer Appreciation Picnic in June for two reasons. First, to thank all the volunteers and donors who helped out at our A Tropical Plant Fair. Second, to celebrate our anniversary of becoming a club. This year marks our 9th year. This year we want to do something special. Instead of a picnic at a local park, we are going to have a reception at Chuck Nichols.

He has a beautiful house and garden on the Intercoastal in Coral Ridge. You don't need to bring anything but yourselves. The club will provide finger foods, heavy hors d'oeuvres, sangria, coke, and bottled water. Chuck will be hosting us on Saturday, June 8th from 4:00 to 6:00. More details to follow.
---
May 22, 2019 - Claifornia Pizza Kitchen FUNdraiser
---
Please don't forget that Wednesday, May 22nd is Equality Garden Club Day at California Pizza Kitchen on Federal HWY. If you go and eat there anytime from open to close of that day, they will donate 20% of your total bill to EGC. They would like for you to have a flier with you to designate your participation. We will hand them out at our club meeting on May 21st, or you can download a flyer from our FB page or web site.
---
November 2, 2019 - Homestead (5 Nursery) Ramble
---
We will Leave the Cardinal Gibbons student parking lot on a 60-passenger bus and return by 5:30. The Gibbons lot is a block off Bayview Drive south of Commercial. You turn west by the school sign onto 47th street and go one block. You will need to bring a lunch, a way to id your plants, and if you can find it, wear your name tag. These are our stops:
Redland Nursery- This is a favorite stop and they probably have everything you need growing on their 7-acre spread. You won't be able to search every inch of the space, so go their website and have them pull the plants you know you want. It's especially good to do this for palms and far out back plants.
Greendale Nursery- This is a new stop and word is that they have a nice selection. I hope to find new large leafed Philodendron there.
Soroa Orchids- Jose is a member of our club and a vender at our plant fair. This is a new stop.
Stelmar Gardens- This is always a big spending stop since the variety of shade plants is so outstanding.
Flamingo Nursery- This was our last stop on the last ramble and our time was running out, so we only had half an hour. At some ramblers' request we will stop again. They have great pots, butterfly plants and almost any sun or shade plant you will 'need'.
---
November 13-14, 2021 - A Tropical Plant Fair
---
---
February 22, 2020 - Spring Garden Tour
---
Your money gets to the end of the month faster, the days are getting longer, it's my birthday month, and this year I can add the first EGC GARDEN TOUR on February 22 (George Washington's real birthday). You can get your pass to the tour at the February 19th meeting. With the pass you will learn where the other nearby gardens are located, and what you can expect to see. IF you can't make the membership meeting but want to see the gardens, on February 22 come to 4520 NE 21 Lane (our house) after 11 AM to get the pass and start your tour.
---
December 10, 2019 - Annual Holiday Dinner
---
Celebrate the Holidays with the EGC!
Another year is coming to a close and we want to celebrate with a nice potluck dinner with lots and lots of plants! The club will have a gift for everyone who attends, so please RSVP as soon as possible. It will be a fun and festive time for all!
Please RSVP by November 30th! What to bring...
Food: Please bring something tasty to share. We are currently short on veggies, drinks, and breads. Please contact Dot ASAP to let her know what you plan on bringing by November 30th.
954-772-4836
bobdot2@comcast.net
Plant:

We are doing a member plant exchange. Please bring a

NICE PLANT

that you would want as part of the exchange.
---
December 6, 2017 - Holiday Party
---
It's that time of year again to enjoy some food, fun and fellowship with your fellow garden club members at our Annual Potluck Garden Club Holiday Party. We've had members sign up to bring some fantastic dishes with all attendees guaranteed to bring home a free plant. Test your knowledge at our plant quiz and be prepared for a fantastic time.

We hope to see you on Wednesday for some holiday cheer. Our featured speakers will start up again in January. Happy Holidays!
---
March 11, 2017 - Garden Tour
---
A tour of Paul Humann's garden
---
April 15, 2020 - Rare & Unusual Plant Auction
---
---
April 21, 2021 - Unique & Unusual Plant Auction
---
Do unusual and uncommon plants pique your interest? Whether it's the bloom, color, fruit, texture, or plant itself, the unique is always compelling. Come one, come all! Here's your chance to add to your collection! Equality Garden Club is a not-for-profit organization that brings plants and people together while respecting diversity. Not every member is a plant guru and that is perfectly okay. Many people who join are simply trying to gain knowledge about plants that are grown successfully in South Florida. Through fundraising efforts, the Club provides funding for research, education, and other environmental projects throughout our community. The Unique & Unusual Plant Auction is one such fundraising event. Everyone who would like to participate must:
Have a Facebook account

Join the EGC Unique & Unusual Plant Auction Facebook group: www.facebook.com/groups/egcplantauction

Attend our Facebook Live event in the group on Wednesday, April 21 @ 6:30pm
It's just that simple! Unique plants will be auctioned to the highest bidder! Oddities, freaks, and the bizarre will be sold! Orchids, natives, shrubs, ground covers, vines, trees, bromeliads, ferns, and everything in between will be available. We have searched high and low for things you may have never seen before! A comprehensive list of all sale plants, with photographs, will be made available before the auction, for your review. Be sure to check the EGC Unique & Unusual Plant Auction Facebook group for new plants we are adding daily. All plants must be paid for and retrieved within 72 hours of the end of the auction. No plants can be shipped. The Wilton Manors location of the plants will be announced after the auction. Mark your calendars, register early, and get ready for some real UNIQUE AND UNUSUAL PLANTS!
---
---